Posted: 10/02/2023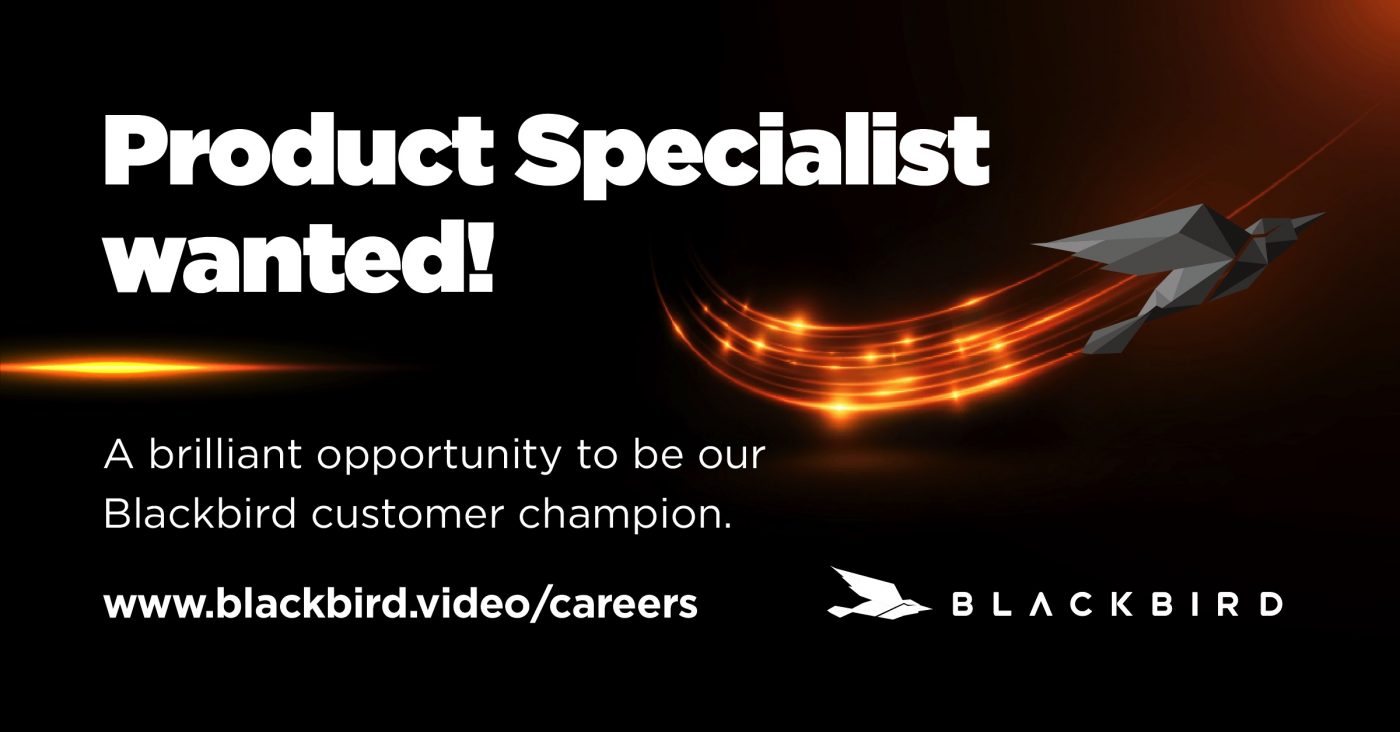 Reporting line: VP Product and Operations
Location: US or UK
Salary: Dependent on experience
The Company
Blackbird plc develops and markets the unique cloud native video platform, Blackbird, which enables secure, lightning-fast, frame-accurate editing and distribution of video content by anyone, anytime, anywhere on any device using low bandwidth.
Blackbird plc is a licensor of its core video technology under its 'Powered by Blackbird' licensing model. Enabling video companies to accelerate their path to true cloud business models, licensees benefit from power and carbon reductions, cost and time savings, less hardware and bandwidth requirements and easy scalability.
The Role
The primary aim of this role is to be a product, user and content champion and ensure successful customer experience. This will be achieved through understanding customer video editing workflows from the perspective of the desired outcome and how to translate these into meaningful product use cases throughout the pre and post sales customer user engagements.
Working with clients and prospects as they are on-boarded, driving customer adoption and satisfaction post sale through regular interaction, training and assistance.
The role will work closely with the Sales team, the Pre-Sales team and VP Product and Operations in London to ensure new customer requirements are clearly identified and effectively delivered.
The role will promote the Blackbird platform, working with marketing to produce customer testimonials, case-studies, reference materials such as edits/sample content and tutorials.
It is expected that the ideal candidate will have fluency in at least one of the major NLEs in the market and is able to create content from scratch that resonates with end users needs.
Responsibilities
As Product Specialist, you will be responsible for:
● Product: Evangelist of Blackbird platform. Input into the product roadmap working with a London-based team including partnership opportunities to enhance our solution. Industry expertise including future direction and awareness of competitor products and their relevant strengths and drawbacks.
● Pre-sale: Supporting Global Sales team with activity such as customer prospect demos and detailed workflow breakdowns. Editorial spokesperson, including testimonials and case studies articulating the benefits of Blackbird.
● Post-sale: Supporting operations team with onboarding process including user onboarding and training; ongoing client user engagement; articulating Blackbird workflows akin to other NLEs and being the voice for Editor to Editor conversations. Work with the marketing team to set up webinars and produce video tutorials, case studies and tutorials to promote Blackbird to existing customers and prospects.
Requirements:
Multiple years experience as an editor and passionate about it
Industry expertise and knowledge of future direction and competitor products
Interest in the cloud and the benefits
Good communicator and capable of being a Company spokesperson
Proactive and self-starter
Flexible over working hours when required to ensure customer success
Ability to cover EU/US and occasional APAC time zones as required by business needs
Approachable and a good team player with the ability to work successfully with customers, marketing, sales, R&D, support staff, and other business colleagues
Please send your covering letter and CV to Huw Dymond, VP Product and Operations: h.dymond@blackbird.video
Blackbird is best-of-breed
Jon Hanford - Group CTO, Deltatre