Australian National Rugby League turns to Blackbird to drive brand reach, engagement and monetization
---
Posted: 10/09/2019
Australia's National Rugby League (NRL) is the most viewed and attended rugby league club competition in the world. 16 professional men's rugby teams, including the enormously popular Sydney Roosters, Melbourne Storm and Brisbane Broncos, compete annually for the prestigious Telstra Premiership title.
With the phasing out of SnappyTV, the NRL sought an alternative cloud video editing platform that could continue to significantly build the sport's brand and reach by delivering engaging content to multiple platforms faster than any other solution on the market. After extensive research into available systems, the NRL chose Blackbird.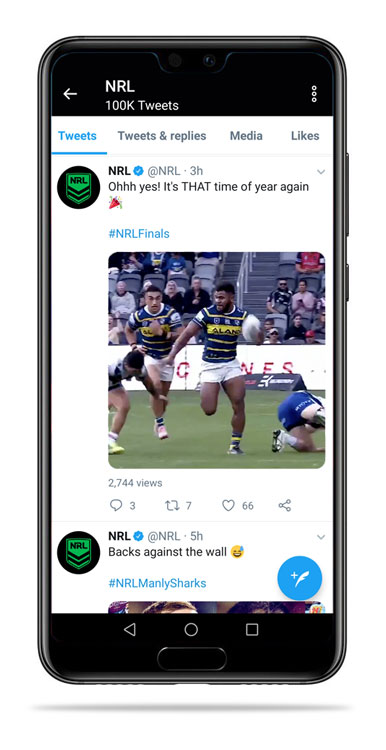 Every weekend, live streams of the 8 games are run through the Microsoft Azure cloud from the NRL's content partners' production locations. Based in Sydney, the NRL's digital team use Blackbird to rapidly clip, edit and publish highlights during and post-match to Twitter, Facebook and YouTube. Clips can be delivered to social platforms within 30 seconds – with emojis added and players and sponsors tagged for further engagement and reach. Idents, overlaid stills and animations and sponsor logos are easily added with geo and playback restrictions implemented to support international rights control.
800,000 fans globally with an NRL Watch account can enjoy premium video on-demand (VOD) content consisting of longer form match highlights, player interviews and behind the scenes content – all edited in Blackbird.
With a cumulative TV audience of 116 million and over 2.9 million fans regularly engaging with the sport on social media, the NRL exceeded Australian Rules Football in popularity last year for the first time since 2010, boasting revenues of over $500m.
<30 Seconds

Clip from live game to social

2.9 Million

Social fans

800,000

Premium VOD fans
Blackbird is best-of-breed
Jon Hanford - Group CTO, Deltatre