Posted: 02/10/2019
The rise of esports has been rapid. By 2022 the industry is expected to be worth $1.8 billion, fuelled by a reported 2.5 billion gamers worldwide.
With gamers fiercely loyal to their favourite titles and star players and teams, the global appetite for gaming action online is enormous with a growing number of companies forming to meet this demand.
Leading the way is esports specialist, Gfinity – born out of a desire to design, develop and deliver a world-class platform for gamers, game publishers, sports rights holders and commercial partners. The company now hosts the 'Gfinity Elite Series' enabling esports teams and professionals to compete across a number of the world's most popular games including Call of Duty, FIFA, Halo and Fortnite.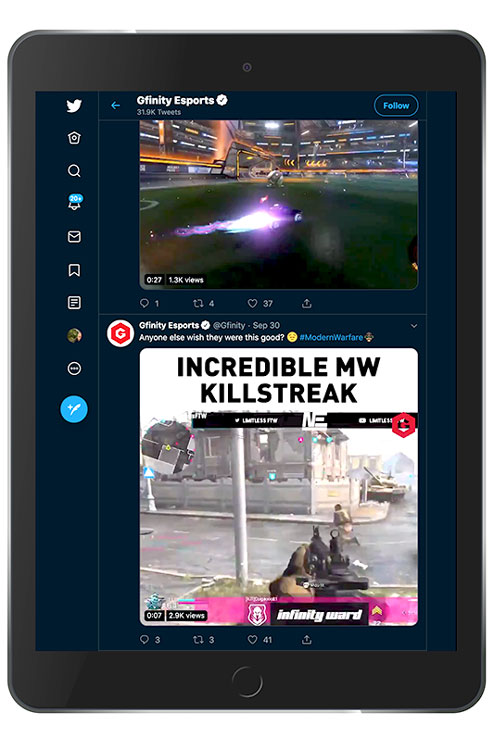 Gfinity's traditional workflow focused on direct editing and ingest of gameplay media into archive. The marketing team had limited access to this video, causing problematic delays in publishing content online for fans to view. The company wanted an agile cloud video editing platform that would enable easy logging and access to archived media, as well as the rapid creation and publishing of clips from live streams.
"Faster publishing of live events to social media and better overall use of the video content we produce is vital for us. Blackbird fills a gap in capabilities that we had been looking to solve. For the first time Gfinity is also able to make use of archived footage and monetise it."

Paul Kent
Chief Operating Officer
Gfinity
To address these issues, Gfinity adopted Blackbird into its media workflow. Blackbird is used by the marketing team to frame-accurately clip, edit and distribute highlights from live streams of gaming action. Content is rapidly published to Twitch, Twitter, Facebook and YouTube within seconds for fans to enjoy – emojis can be added and players tagged for further engagement and reach. On Twitter alone, Gfinity has accumulated millions of views of its gaming content.
Using Blackbird, the marketing team can also rapidly access Gfinity's vast gameplay archive for repurposing across social and web. Sponsor branding and adverts can be added, partners tagged and promotional messaging included to drive monetization.
Agile, fast and easy to use, the Blackbird cloud video editing platform has helped Gfinity become one of the world's leading esports companies – reaching 150,000 gamers every day, engaging with 2.5 million people regularly via its Facebook page and attracting over 1 million monthly viewers to its website.
<5 Seconds

Access to live streamed content through blackbird

Millions

Of views of Twitter gaming clips delivered by Blackbird

2.3 Billion

Gaming community worldwide
Blackbird is best-of-breed
Jon Hanford - Group CTO, Deltatre