Posted: 02/05/2023
The Blackbird cloud-native video editing platform offers a range of powerful features for editing, syncing, and publishing multi-camera content in the cloud. With the ability to work on both live and file-based content, Blackbird makes it easy to manage complex multi-camera workflows and deliver high-quality content to multiple platforms.
One of Blackbird's standout features is its multicam syncing and editing capabilities. With support for multiple cameras and audio recorders, as well as timecode and sync maps, Blackbird makes it easy to set up and manage multicam groups for both live and non-live content.
Setting up a multicam group is simple and intuitive, with the ability to assign each camera to a number pad on the keyboard for easy switching between shots. Once your multicam group is set up, you can easily trim and adjust the sync relationship between shots, edit and switch cameras in a web browser, and preview your edits in a quad split view or non-quad split view.
Blackbird's multicam editing tools also include advanced editorial controls, such as logging spans and sync maps for preparation and organisation, as well as the ability to create multi-group layers and transitions for a polished final product. And with Blackbird's frame-accurate workflow, you can be sure that your edits are precise and seamless, even with complex multi-camera footage.
Once you've finished editing your multicam content, Blackbird makes it easy to deliver these assets to multiple platforms, with options for high bit rate delivery, conforming against high bit rate, and generating AAF files for other applications. You can also publish directly to social media platforms like Twitter or Instagram with simple publish buttons, making it easy to get your content in front of your audience quickly and efficiently.
For a deeper dive please enjoy this masterclass: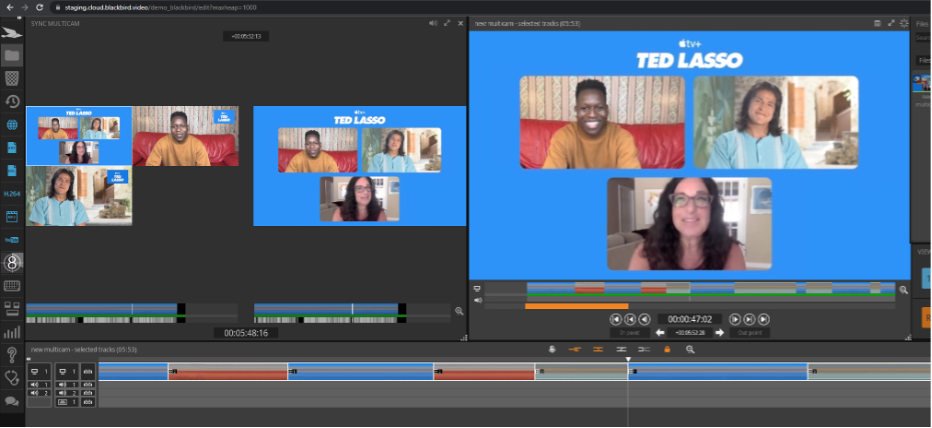 Blackbird is best-of-breed
Jon Hanford - Group CTO, Deltatre