Posted: 10/10/2018
The following is an interview that Forbidden Technologies' CEO, Ian McDonough, gave to IABM at IBC 2018:
We asked Ian McDonough, CEO at IABM member Blackbird, to tell us a bit about this apparently new name in our industry.
Forbidden Technologies could really be described as a customer-centric R&D company for many years, led by our founder Stephen Streater and his visionary team. They were correctly convinced by the future of the cloud and so they focused on significantly improving the video experience on the internet for all – consumers and professionals.
Coming in as CEO last year when the ground-breaking technology was so advanced and the world has shifted so dramatically towards the cloud is what attracted me most. Although we are still working on B2B2C technology, we have Blackbird, our 'video workstation experience in the cloud' for any businesses that work with video, across any sector.
Back in March, we elevated Blackbird to be the master brand because it helped highlight the main point of differentiation between us and any other cloud-based platform – namely our cloud-native Blackbird proxy codec.
Our unique and patented Blackbird codec allows us to reach what many believe is the holy grail of video production – the workstation experience in the cloud. It provides all the benefits of a bespoke, on-premise experience such as a rich variety of highly-responsive, frame-accurate, precision tools with the enormous advantages of the cloud which include remote working, non-linear collaboration and an SaaS cost model.
20 years ago, most people wouldn't have imagined the enormous opportunities and new directions the Internet would open up – but being a trailblazer isn't always comfortable. How did the company manage expectations – and avoid the trouble so many other dot.com boomers hit?
We are a lean, AIM-listed company with a broad base of institutional and private investors including my family in the most recent fundraise – none of this could have been achieved without all their support. In addition, we have a solid customer base in the UK and US across news, sports, eSports and post production who have worked closely with us to hone the Blackbird suite of products to be the lightning-quick, precision tools they are today.
We have also been very fortunate to keep our core developer team together over a number of years – all of whom have a deep understanding of how Blackbird and its digital production toolsets have been built.
Thanks to these various stakeholders, what we have is a world-leading, unique technology that has been developed at a fraction of the cost of less appropriate solutions built by large corporates. We are now very excited to embark on our next stage of growth and deploy Blackbird as part of infrastructure as a service within an OEM model across the US and beyond.
Please give us a brief overview of your product range.
The Blackbird product suite ranges from basic level Blackbird Edge and Player to Blackbird Forte for advanced video professionals.
The Blackbird Edge and Player: Edge is the foundation technology for our product line – allowing users to accelerate the visibility, immediacy and manipulation of video content for workflows across the media supply chain in the cloud. Our Blackbird Player provides access to the renderless ability to instantly review and publish content and edits within the Blackbird cloud using the frame-accurate and frictionless control experience of a browser. The player can be embedded into internal and external websites or shared as links for playback on desktop, tablet or mobile browsers.
Blackbird Ascent: is designed for professionals who are not editors such as marketers, journalists and social media experts enabling them to frame-accurately create event highlights from live or recorded sources and rapidly publish them to the web.
Blackbird Forte: is designed for professional editors and is a fully-featured cloud-native video editing system which allows teams to hyper-accelerate the delivery of video content across the media supply chain with a market-leading suite of management and manipulation tools.
Blackbird API integration: we have integrated with Artificial Intelligence (AI) provider Veritone to give our customers access to 300 AI engines from transcription, translation, to facial and logo recognition and many more.
Tell us about the range of applications your customers use Blackbird technology to solve, with examples as appropriate.
There is a multitude of ways in which Blackbird can dramatically enhance the video management requirements of any organization:
Blackbird enables the ultra-fast publishing of edited highlights for live sports, eSports and news to any platform such as social media channels.
As a web-based platform agnostic, cloud-native application that requires no hardware investment, Blackbird enables production teams to access and edit video content via any browser using any device from anywhere in the world for easy, collaborative working.
Blackbird is very fast – its patented super low-latency codec allows users to access and edit video content within the cloud to deliver a true workstation experience. Users enjoy hyper-fast, frame-accurate navigation, playback and viewing of large volumes of video in the cloud without any delays using bandwidth as low as 2Mb per second.
The days of uploading and downloading all hi-res video around or into the cloud are now over. The Blackbird proxy is created faster than real time and the unique multi-directional codec enables users to work on the content needed – saving production teams significant time, bandwidth costs and frustration.
These unique strengths of Blackbird are the reason why major media companies such as TownNews.com, MSG Networks, Gfinity , BBC, Our House Media, Dragon Touch Systems, Deltatre, Fanview and ESP Gaming trust the technology extensively.
Partnerships with fellow technology vendors, cloud platforms and solution providers are clearly important to Blackbird. Tell us about how you manage these – in some cases there must surely be competitive issues?
Neither Adobe or AVID have true cloud workflows so we would not position ourselves as competitors – we provide a complementary solution. Blackbird integrates with both of these systems, which gives our customers an option to work with Blackbird and their existing video editing tool. We have on occasion though replaced Adobe, AVID and EVS workflows – however these are the exception rather than the rule.
With technology vendors such as Veritone, we are finding that we are very complementary. Our unique Blackbird codec is very attractive as a way of giving visual form to their specialist AI functions.
All our resellers tell us that in our cloud video production niche, we don't have any true competition. Nobody else has the ability to provide a workstation experience in the cloud and so they are able to confidently relay this message to their end customers.
Why do your customers choose Blackbird's solutions over other cloud-based video platforms –what is your secret sauce?
The essence of our secret sauce is very much the Blackbird codec. It is lightweight – yet high quality. As a highly responsive codec, it enables us to provide that workstation experience in the cloud. Our rollout of Blackbird Ascent and Forte toolkits in JavaScript allows Blackbird to work on virtually any browser, at very low bandwidth. This is highly attractive as many more companies move to remote workflows and need the cloud to work with zero latency.
What's next for Blackbird – what will power your continued success?
Product development wise, we will be honing our JavaScript based editing solutions for Ascent and Forte and also continuing to add features to the toolkits such as making various Blackbird APIs available for integration into the Blackbird platform. Time data exchange with AI cognitive engines, data providers and social media platforms is also a key initiative for us.
Commercially, we are focused on further raising the international profile of Blackbird so that media companies across all sectors can learn how this amazing technology can dramatically improve their video workflows, increasing productivity and reducing their costs significantly. We've signed contracts with numerous organizations over the past 12 months in the news, sports and eSports sectors across North America, Europe and Asia and have many more exciting opportunities in the pipeline that we're currently working on with some of the biggest names in the media industry. We are also keen to work more towards licensing the codec to OEM and solutions providers that have a broad user base.
It's a very exciting time as vast areas of the video world move towards cloud workflows and we are absolutely determined to ensure that Blackbird retains its position as the leading codec for viewing, editing and manipulating video in the cloud.
What IABM member services do you find most useful, and why?
My team finds IABM's resources such as training very useful as it enables them to keep up with trends in the industry. We also very much appreciate your presence and support at major shows such as NAB and IBC.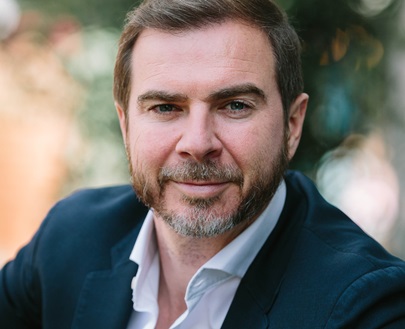 Blackbird is best-of-breed
Jon Hanford - Group CTO, Deltatre