Cloud native video – Yours. Powered by Blackbird.
---
Posted: 21/10/2021
By Ian McDonough, CEO, Blackbird
Think Blackbird is just the developer of the market-leading cloud native video editing platform?
Think again.
Now any company wanting to leapfrog the competition and gain a gateway to the cloud can do so 'Powered by Blackbird' by licensing our core video technology.
What is 'Powered by Blackbird'?
Quite simply this is the opportunity for enterprise customers to license modules of our patented core video technology to gain all the benefits of Blackbird, while having the freedom and scope to design the functionality and user interface in line with the rest of their product portfolio.
Building your platform on Blackbird core technology modules can enable all or a selection of the following capabilities:
Flexibility to operate on premise or in the cloud or a combination of the two
Advanced editing, clipping and media manipulation in a browser in the cloud or on-premise
Migration from CapEx to SaaS models
It offers the speed, the portability, the sheer convenience for video content teams to be able to work wherever they are, on any piece of kit. Whether you're a CTO, a director of engineering or content creator you don't have to be thinking about specialist hardware, or connection speeds. With Blackbird's core video technology, content can be frame-accurately viewed and edited seconds after live from anywhere on bandwidth from 2Mbps.
The professional editing space is a relatively niche activity amid the universal business of video communication. More significant are the heavy workloads associated with shuffling media back and forth over networks or playing the video back on a multitude of connected devices. By incorporating Blackbird video technology, large media files need never be moved again.
Who can benefit from 'Powered by Blackbird'?
Blackbird's core video technology allows organisations to manage video like no other solution – enabling lightning-fast access to frame-accurate video editing and content publishing by anyone, anywhere, any time.
That means traditional video companies can now migrate their on premise infrastructure to the cloud. It means video companies wanting to move from CapEx to SaaS business models can do so. And any forward-thinking organisation seeking efficiency, speed and improved user experiences working with video from their existing cloud workflows can do so Powered by Blackbird.
For some companies Powered By Blackbird is a more suitable solution than integrating the core product. That's because they can host their own video applications and user interfaces in the browser and in the cloud, leapfrogging traditional application workflows, at a stroke.
When Powered by Blackbird, your business can accelerate its journey to true cloud business models.
Core multi-patented technologies
At its heart, Blackbird is an IP company and holds 16 patents (10 awarded, 6 pending) around two central tenets: the Blackbird Codec and the Blackbird Libraries.
The Blackbird Codec is ultra efficient, developed for the cloud but able to work equally well on premise and aid cloud migration. It enables a high quality video proxies to be created faster than real time.
Blackbird is the fully-featured JavaScript professional editing suite that has re-written the rules of what is possible in a standard web browser: 18 video tracks, 36 audio tracks, complex transitions, blur effects, color correction, voice over – and much much more – all made possible from simply logging in to your Blackbird account from anywhere.
That the sector defining IP has multiple use cases outside of the core pro editing platform is one of the reasons the company has attracted media and technology luminaries including John Honeycutt (former Discovery and Google executive) and Dawn Airey (former Channel 5 and Getty Images CEO) to the board. It's why I, after a career at Sky, Warner and BBC Studios, became CEO to guide its expansion transition in 2017.
Licence our IP
If a company wanted to engineer a browser-based video editing platform tomorrow it could likely risk years in R&D and potentially not come close to the lightning quick, efficient and resilient design of Blackbird.
Or it can take the Powered by Blackbird core technology and build a video editing platform on the back of it, today. All the power of a lightweight codec and the functionality of a coding library is available to deliver a supercharged browser-based cloud video editing platform.
A product Powered by Blackbird can create value for those companies that licence this core technology by dramatically lifting them away from on-premise CapEx to true cloud and true SaaS.
An example? A global broadcast company is currently integrating Blackbird video technology to enable its users to enjoy browser based, desktop editing workflows Powered by Blackbird, including their own editor and player. Under this first technology licensing contract, our partner will use Blackbird video technology to provide the basis for their own advanced on premise and cloud native editing platform, extending its use into new product areas.
Driving multiple major efficiencies for organisations
Blackbird is attractive to companies like Tata Communications, the NHL, Univision and A+E Networks because it is incredibly efficient in terms of productivity and delivers significant carbon reductions for users currently running on premise video editing workflows. This year we've produced white papers that have independently evidenced that Blackbird is upto 91% more carbon efficient and 35% more cost effective than non cloud native workflows.
One simple piece of infrastructure can be rolled out to thousands of people with no configuration, no downloads, or plug-ins.
Blackbird's secret sauce behind your business transformation is that it's available in the browser. Just pure SaaS.
If you aren't making plans for cloud native video you may already be too late to the game.
"For those suppliers (and we argue those customers) wanting to enjoy the valuation levels of peers, you need to be in the cloud," asserts analyst Josh Stinehour at Devoncroft. "This is reasoning from corporate objectives, though it reflects the deeper, operational benefits."
Our doors are open. Come and talk to us about how we can help you go cloud native and reap the benefits of SaaS today.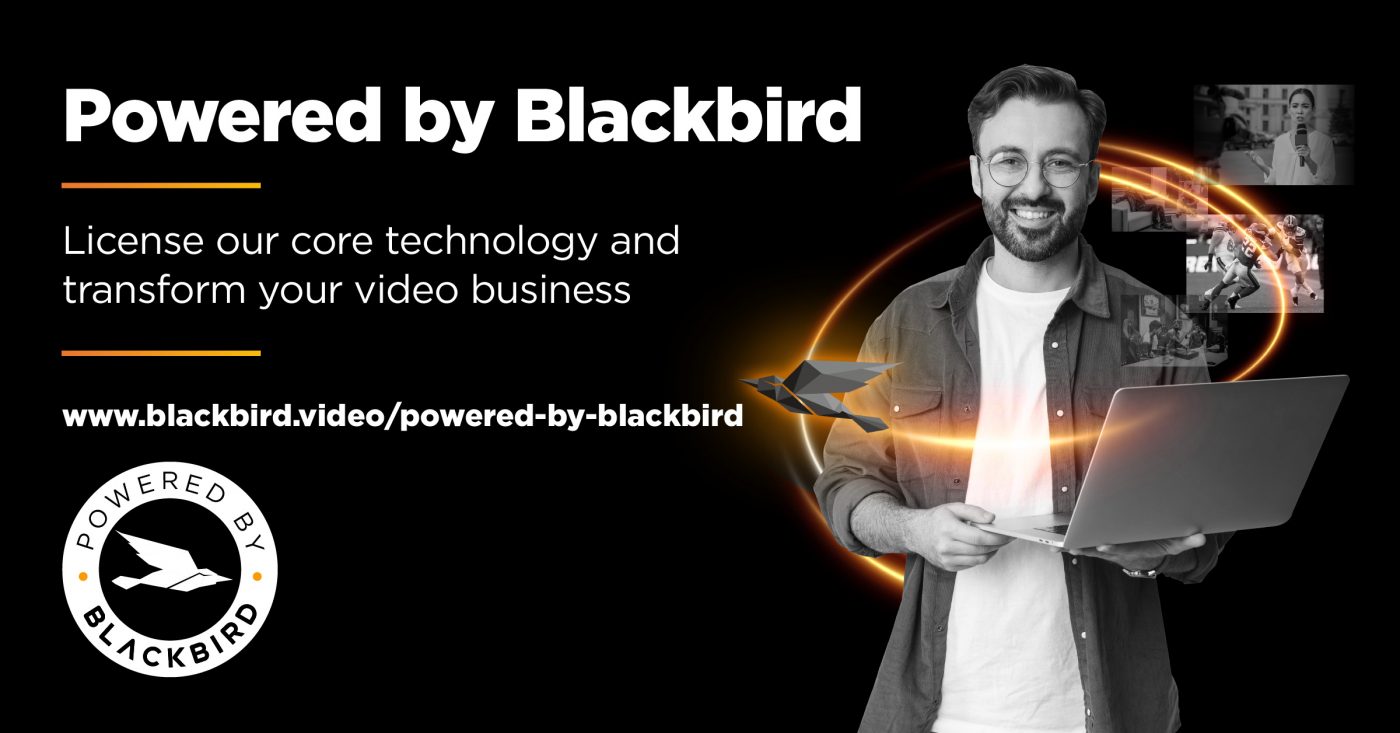 Blackbird is best-of-breed
Jon Hanford - Group CTO, Deltatre